The Embassy of Hungary hosted a concert and a reception in remembrance of the 60th Anniversary of the 1956 Hungarian Revolution and Freedom Fight in the greatest concert hall of Riga, in the Great Guild Hall. Hungarian pianist Balázs Fülei was performing at the commemorative event.
The gala concert, sponsored by the 1956 Hungarian Revolution and Freedom Fight 60th Anniversary Memorial Board was also the last event of the 2016 Hungarian Days in Latvia. Ambassador of Hungary, Ms. Adrien Müller addressed the audience, highlighting the historic importance of 1956. She expressed her gratitude to those Latvians who are either in Latvia or in exile showed solidarity with the heroes of 1956. Ambassador Müller also drew the attention of the attendants to the exhibition of the House of Terror Museum, Budapest, entitled "For Freedom and Independence" which was open to visitors at the National Library of Latvia till 8 January, 2017.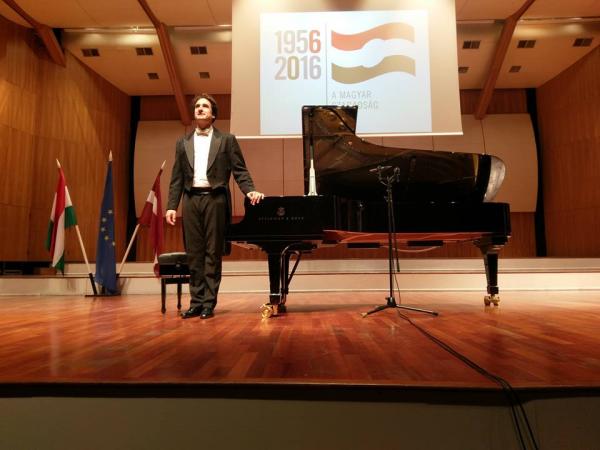 The outstanding pianist, Mr. Balázs Fülei played from the works of the greatest Hungarian composers, Ferenc Liszt, Béla Bartók and Zoltán Kodaly's. Mr. Fülei's presentation was rewarded by standing ovation. The welcoming speech of Ambasador Müller and the concert in its entirety were broadcast live by the Latvian public radio station, Radio Klassika. Pianist Balázs Fülei performed in front of a full house, almost 700 people were present. The event was attended by representatives of ministries and of the Latvian scientific society, leading cultural figures, ambassadors and members of the diplomatic corps. The concert was a free event. 
The program was sponsored by the Hungarian Revolution and Freedom Fight 60th Anniversary Memorial Board.